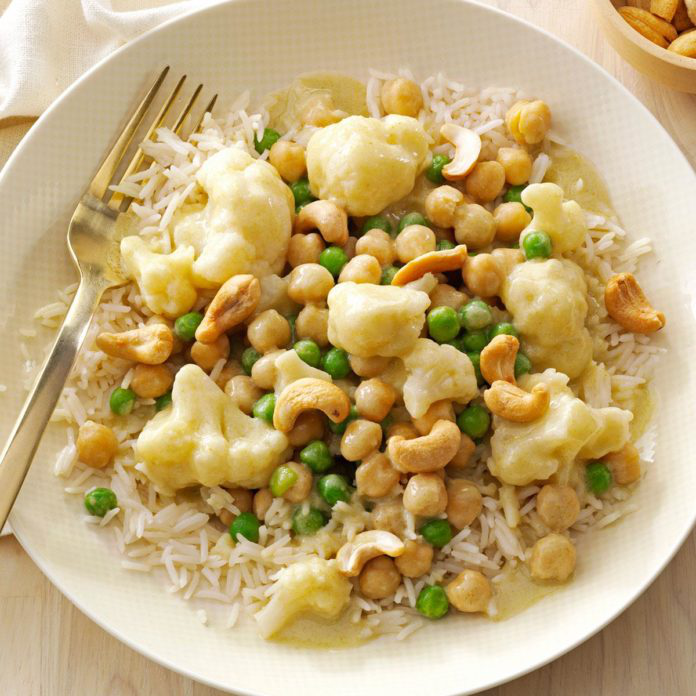 Recipe: Garbanzo-Vegetable Green Curry
This dish has both spice and a hint of creamy sweetness from the coconut milk to satisfy all tastes. Green curry does have "kick" though, so if spice is not your style, substitute with the milder red or yellow curry. This recipe makes a great main dish served with a salad or can be a unique pairing to an Asian fish or poultry main course. If you have a nut allergy, the cashews are optional, but they do add crunch and a healthy fat to the dish so be sure to complement the curry with another healthy fat of your choosing (pumpkins seeds, sunflower seeds, or raw bean sprouts sprinkled on top).
Ingredients
3 cups frozen cauliflower
2 cans (15 ounces each) garbanzo beans or chickpeas, rinsed and drained
1 can (13.66 ounces) coconut milk
1/4 cup green curry paste
1/2 teaspoon salt
2 teaspoons cornstarch
1 tablespoon cold water
1-1/2 cups frozen peas
2 packages (8.8 ounces each) ready-to-serve long grain rice
1/2 cup lightly salted cashews (optional)
Directions
1. In a large skillet, combine cauliflower, beans, coconut milk, curry paste and salt. Bring to a boil; cook, uncovered, 5-6 minutes or until cauliflower is tender.
2. Combine cornstarch and water until smooth; gradually stir into the skillet. Stir in peas. Bring to a boil. Cook and stir for 2 minutes or until thickened.
3. Meanwhile, prepare rice according to package directions. Sprinkle cauliflower mixture with cashews. Serve with rice.
Recipe Source: Taste of Home